Troost Room
Seating Capacity 50, Standing Capacity 75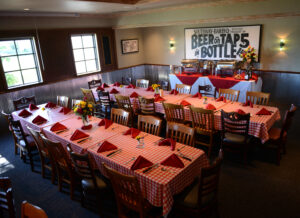 Donegan Room
Seating Capacity 40, Standing Capacity 60
Set-up and menu style requests will reflect final capacities.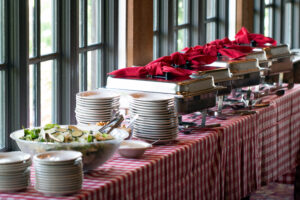 Complimentary AV Services
Projector and screen with computer hook up, WIFI and room audio control. Some AV options listed not available in the Donegan Room.
A notice of one week is required for all special needs.
Linen and Decor
Stroud's house checkered tablecloths complimentary. Linen table cloths, votives and seasonal décor have additional charge. Banners, glitter and wall décor are not permitted. A notice of one week is required for all special needs.
Deposits and Payments
A minimum in food and beverage is required for room bookings. A deposit of the minimum is required to hold your event on the date of initial booking. Full payment of the food and beverage minimum will be charged on the day of the event. Any agreed minimum food and beverage amount not spent between the hours of the reservation will be charged as room rental. Payment can be made in cash or with any major credit card. Stroud's does not accept personal checks.
Minimums will be quoted by the General Manager and company Event Director. Minimums subject to increases during holiday seasons or at the discretion of Stroud's.
Service Charge
An 20% Service Charge on the host check and all individual guest checks will be presented for your convenience.
Cancellation
Cancellation of event within 6 days of said date will result in loss of 50% of the deposit. Cancellation within 72 hours of agreed event date will result in loss of 100% of the deposit.
Are we booked?
We also offer full-service and drop and go catering, ask us!
Contact Our Private Events Manager To Start Planning Your Event
Click To Download Our Private Events Menu